Electrical switchboards Division
One of the things we are more proud of is that we internally design and produce our low-voltage electric switchboards: a key element in any electric and mechanic installation.

This choice allowed us to create Customized solutions for low-voltage electric cabinets:

The Electric Switchboard Division was born in the 80s from the acquisition of Mazzilli and C. SpA, which was then incorporated in 2006 in Elettromeccanica Galli Italo SpA.

Our products are the result of the constant research and development of our electric cabinet department, that constantly develops and fine-tunes new solutions thanks to the collaboration and suggestions of the technical engineering sector.
Certifications
Our low-voltage switchboards comply with IEC 61439-1 and IEC 61439-2 Standards and have been tested and certified by the main international standard accreditation bodies .
Anti-seismic Certification
The Electrical Switchboards Division has obtained for the following products
Power Center series "GIOVE-120"
Secondary distribution Electrical Panel "SATURNO-AS"
anti-seismic certification (ref. IEC standard EN 60068-3-3 and International Standard IEEE693).
The tests took place at the CESI – LPS laboratory in Seriate (Structural Testing Laboratory P610) accredited in accordance with EN ISO/IEC 17025: 2005 by ACCREDIA (LAB 0030; Seat C) for the execution of "Vibration tests with random dynamic forces – Method with oscillogram" in accordance with IEC En 60068-2-57: 2014 (par. 8.1, 8.2, 8.3, 8.5) / IEC 60068-2-57: 2013 (par. 8.1, 8.2, 8.3, 8.5)
The units were subjected to tests aimed at the analysis of structural resistance to the earthquake; the activities included resonance frequency research tests and tests with multifrequential triaxial vibration of a seismic type.


Resonance frequency research tests
The purpose of these tests is to determine the resonance frequencies of the Units (in the field of seismic frequencies) and to evaluate their structural damping at the lowest frequency:
| | |
| --- | --- |
| Type of test | Sine scans |
| Frequency field | 0.5 – 50 Hz |
| Stress level | 1 g (1 g = 9,81 m/s²) limiting the movement to ± 50 mm |
| Scanning speed | 0.5 Oct/min. |
| Directions | X, Y, Z (three mutually perpendicular axes of units, not simultaneously) |
| Number of scans | 1 (UP) |
Earthquake resistance tests
| | |
| --- | --- |
| Type of test | Multifrequency triaxial vibration |
| Frequency field | 1.5 (approx) – 50 Hz |
| Damping | 5% |
| ZPA | 1.0 g (note: 1 g corresponds to the highest possible level for IEEE693) |
| Directions | Three mutually perpendicular axes of units (simultaneously) |
| Number of pulses | ≤ 3 |
| Pulse duration | 32 seconds (strong part ≥ 20 sec.) |

The tests were carried out using:
MASTER vibrating table (4x4 m: 6 dof) with digital data control and acquisition system;
24 acceleration transducers divided into triaxial accelerometric positions on units.
Video: test 100% - 0,5 G
Video: test 100% - 1 G
With this Certification, Elettromeccanica Galli Italo S.p.A. Electrical Switchboards Division proudly completes all the certifications required by the various Regulations, offering the market from low voltage products of excellence born from its professional experience gained in years of studies and research in the field of low voltage panels.
---
Low-voltage electric cabinets
GIOVE 120
Power Center
The GIOVE type series 120 power center represents and includes all advanced technical solutions regarding the sector of low-voltage power supply.

It is made of totally standardized sections and allows to apply any international normative solution.

Its electrical and mechanical characteristics and its compact dimensions make it a product suitable for any kind of application where a medium-high power distribution system is required.

Besides having a certified 120 kA short circuit current, can also be produced to withstand an internal arc seal up to 75 kA Icc.
NOMINAL OPERATING VOLTAGE

Supply voltage variation
Ue
660 V
Permissible harmonic component (of the voltage)
(max)
± 10 %
Nominal Insulation Voltage
(max)
10 %
Rated impulse withstand voltage (1,2/50 µs a 2000 m/slm)
Ui
1000 V
Voltage impulse peak for insulation test (1,2/50 µs at 2000 m/slm)
Uimp
8 kV

Industrial frequency flash voltage (for 5 seconds)

2200 V
Nominal current
In
6000 A
Permissible short term current (effective value for 1 sec.)
Icw
120 kA
Peak value (up to)
Ipk
264 kA
Nominal frequency
f
50 Hz
Room temperature (average value in the 24 h)
Ta
+ 35 °C
Relative humidity level (at + 40 °c)
50 %
Pollution degree (industrial installation)
3
Maximum installation altitude
1000 m/slm

Compliance with the Law
Italian
CEI 17-113
CEI 17-114
International
IEC 61439-1
IEC 61439-2
---
SATURNO
Secondary distribution cabinet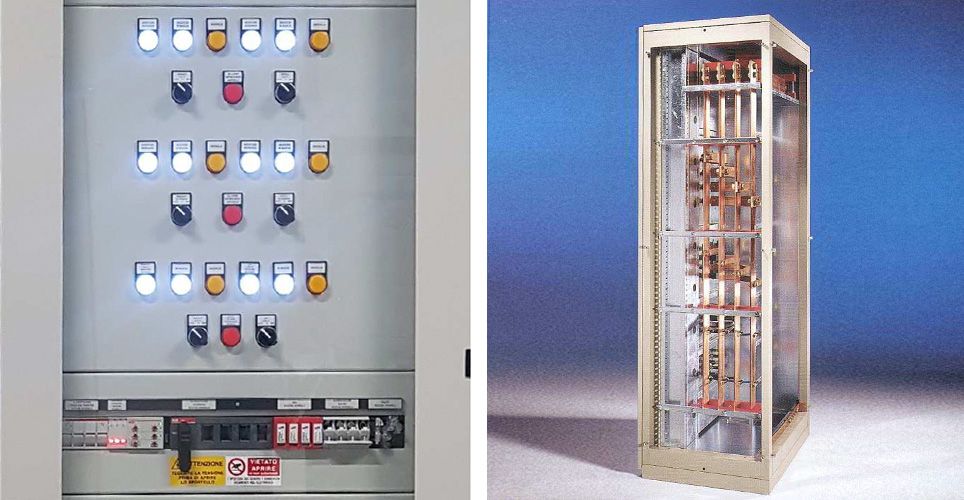 The SATURNO AS electrical switchboard is divided into a range of cabinets suitable both for automation and for power distribution.
NOMINAL OPERATING VOLTAGE

Supply voltage variation
Ue
660 V
Permissible harmonic component (of the voltage)
(max)
± 10 %
Insulation nominal voltage
(max)
10 %
Voltage impulse peak for insulation test (1,2/50 µs at 2000 m/slm)
Ui
1000 V
Industrial frequency flash voltage (for 5 seconds)
Uimp
8 kV

Nominal current

2200 V
Permissible short term current (effective value for 1 sec.)
In
1600 A
Peak value (up to)
Icw
50 kA
Nominal frequency
Ipk
105 kA
Room temperature (average value in the 24 h)
f
50 Hz
Relative humidity level (at + 40 °c)
Ta
+ 35 °C
Pollution degree (industrial plants)
50 %
Max installation altitude)
3
Maximum installation altitude
1000 m/slm

Compliance with the Law
Italian
CEI 17-113
CEI 17-114
International
IEC 61439-1
IEC 61439-2
---